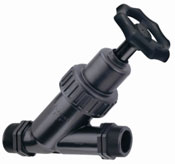 angle seat valve 3047 plasson
Valves Reinforced Plastic
Reinforced Plastic Valves
Reinforced Polypropylene plastic irrigation valves. Plasson's large variety of irrigation valves, such as the 1/4 Turn Valves which are now also rated PN10 - the perfect solution for your agricultural needs!
-
Can be serviced in line - no need to remove valve.
-
Extra tough high impact polypropylene body - frost proof.
-
Maximum 10 bar working pressure (145 psi).
-
Coupling connection ends for Metric poly - can be converted to Rural poly.
-
Special price deals for irrigation resellers available.