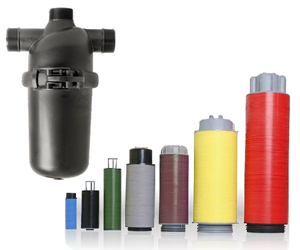 manual disc filters
Manual Disc Filters
Geneuns Manual Disk filters, Arkal Amiad Netafim - Lowest Prices Disk Filters Around the GLOBE !
Order here: Disc Filters, irrigation water by arkal amiad.
Standard Features:
- Innovative irrigation filter design captures and retains large amounts of solids.
- Long-term operation with little maintenance or cleaning.
- Operation is easy and requires no special tools.
- Completely resistant to corrosion, chemicals and fertilizers diluted in irrigation water.
- Max working pressure 10 bar [125 psi]
- Filtration grades: 400µ to 20µ [40 Mesh to 600 Mesh] Higher grades available up to 20µ [600 Mesh]
- The irrigation filtration element consists of grooved discs, mounted on a spine,forming a cylindrical filter element. The disks are compressed together by a spring located at the bottom of the filter cover. Optional controller will spin klin the battery by pre-set pressure drop or by time intervals.
arkal disc filters technical guide
arkal disc filtration technology
discs filters basic spare parts ordering
spare parts arkal amiad manual disk filters spares catalog
filtration grades mesh & micron